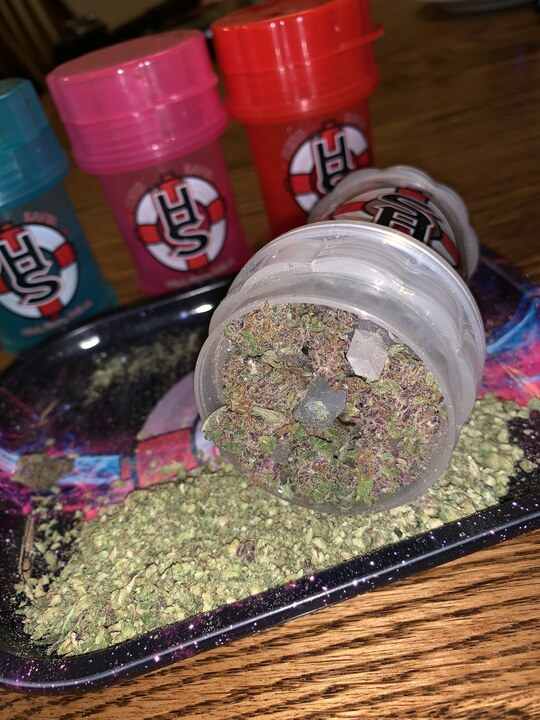 Some bud smokers may argue that the debate over whether to grind or not to grind is still as active as ever. We're here to put that myth to rest. As connoisseurs of the grind, Herb Saver knows that grinding your weed before partaking is the best way to blaze. Not only that, but we produce a top-quality, multi-chamber, plastic grinder that we believe is the only option you'll ever need for grinding bud, storing flower, and collecting pollen.
Grind Your Own Business
There are several reasons we believe grinding your weed is the way to go, although if you're the kind of smoker who really prefers getting in there with your fingers, we understand. To each their own. We just think a good weed grinder provides a more satisfying smoking experience for the following reasons:
Containment: A good herb grinder is designed to contain your shredded bud as it breaks down, keeping your fingers clean of sticky residue and maintaining a clean work surface.
Distribution: Whether you're rolling joints or filling a bowl, cannabis that is finely ground provides a more evenly distributed surface area for a superior burn.
Accumulation: The best 4 piece grinders will have a container for catching a dusting of crystal-like kief, which are cannabis trichomes that sift through a screen for use later.
Why Herb Saver is The Best Weed Grinder for Kief
The gathering of kief (also referred to as pollen, dry shake, or "keef") is one of the most popular reasons for using a weed grinder on a regular basis. Kief contains a varied mix of cannabinoids, terpenes and flavonoids, making it a tasty and potent threat that can reach THC levels up to 70% depending on purity. You may choose to sprinkle these pure cannabinoid crystals over a hot drink to kick it up a notch, although kief is more often mixed with flower for smoking, or pressed into a highly concentrated substance called hash.
Whatever your motivation for collecting kief, you'll find no better tool for the task than the ingenious 4 piece weed grinder from Herb Saver. Our hybrid grinder and kief collector is the epitome of convenience and class, with features that any stoner will swoon over. We've got 15 reasons why Herb Saver is not only the best way to collect kief, but the best weed grinder, period.
1. ALL-IN-ONE DESIGN
Your Herb Saver container does it all, acting as storage, grinder, sifter, and kief collector simultaneously. It's like the swiss-army knife that weed lovers never knew they needed!
2. MADE FROM SAFER, SUPERIOR PLASTIC
Our plastic Herb Saver grinders are safer than the average metal-made versions. Grinders made from aluminum, for example, can create shavings as it wears down over time that can contaminate your ground flower. Herb Saver grinders, on the other hand, are made from medical-grade polypropylene, a durable, high-use plastic that is temperature- and corrosion- resistant.
3. MAGNETIC TOP
The lid of your Herb Saver is equipped with a strong magnetic closure cleverly tucked between the teeth to secure your bud while it's in your pocket.
4. FINER MICRON SIFTER
The sifting screen for collecting kief is extremely fine and made of stainless steel. Other grinders with mesh screens cannot match the Herb Saver's friction-fit, removable screens that allow for easier cleaning and replacement.
5. SCRAPER TOOL INCLUDED
Having a small scoop or scraping tool is a must-have for handling the powdery pollen that collects at the bottom of your grinder. Herb Saver grinders always come with a handy little scraper tool for quick and easy kief retrieval.
6. THE PRICE IS RIGHT
Unlike some heavy-duty metal alternatives, Herbsaver grinders are extremely affordable and won't put a strain on your wallet.
7. EASY TO CLEAN
Over time, grinders are prone to getting gummy and gunked up with weed residue. Not only are the screens of your Herb Saver grinders easy to clean and replace, but the entire tool is also dishwasher safe. No need to spend hours scrubbing every nook and cranny to get your weed grinder looking new again.
8. LIGHTWEIGHT
Since Herbsaver grinders are constructed out of durable plastic, they are lightweight and easy to handle. This can be especially necessary for individuals dealing with arthritis or other dexterity issues.
9. WATER RESISTANT
Your weed is happiest when it's nice and dry, so we've designed our grinders to keep the damp out of your dank. The magnetic closure and secure threading ensures you won't have to worry about moisture seeping in to ruin your stash.
10. ODOR RESISTANT
Marijuana usually has a very distinctive smell, and it can be hard to keep things discreet if you're walking around stinking like ganja. Our herb grinders are well sealed to keep that tell-tale whiff of weed under wraps so you can carry it with you without fear.
11. ULTIMATE STORAGE
The larger compartment of every full-size Herb Saver grinder holds up to 12 grams of ground herb, while the lower compartment which collects kief holds 3-5 grams of loose pollen. With so much capacity, why bother carrying with anything else?
12. MEET THE MINI
Say Hello to the mini Herb Saver grinder. Measuring just 1-1/2 by 2-1/2 inches, this petite version of the original Herb Saver packs a punch as a fully functional, 4 piece herb grinder. Perfect for the stoner on the go!
13. COLOR VARIETY
Herb Saver grinders are available in over 15 different color varieties, so go ahead and customize your grinder to match your personality. Choose your favorite bold color or an option like tie-dye, glitter, or glow-in-the-dark.
14. LIFETIME WARRANTY
The teeth of your Herb Saver are protected against damage thanks to our generous lifetime warranty.
15. DISCRETION IS KEY
Until weed is universally accepted without raising an eyebrow, we will continue to offer discreet billing and shipping for your convenience. Your online purchase is secure and your data is encrypted, while your product is delivered in discreet packaging so you can maintain your privacy.
Herb Saver is the Clear Winner
When it comes to catching kief, grinding cannabis, and carrying your stash with confidence, the Herb Saver grinder wins Best in Show across the board. From our ultra-fine micron kief catcher to our spacious four-piece design, it's clear to see why our products get such rave reviews.
Be sure to explore the current assortment of products on our website, and subscribe to our Instagram for all the latest. Contact our team if you have any questions, and last but not least, Happy Grinding!